After a long road trip from Abuja to Ibadan, Oyo State, Nigeria, to visit my parents, who were living at Eleyele Ibadan on Wednesday, April 5, 2023, I decided to go outside for birdwatching on the morning of Thursday, April 6th. I headed to a neighbouring forested area armed with my binoculars, Nokia D3300 camera mounts with 55-200mm lens, Birds of Western Africa Guide, and my dependable BirdLasser and eBird applications. As I walked along the dirt path, many bird species could be heard chirping in the trees above me. I couldn't help but be excited knowing that I would be able to get an up-close look at these magnificent species through my binoculars and camera. My first sighting was a Glossy-backed Drongo, perched on a branch just a few feet away. I watched in awe as it flitted around, showing off its shiny black feathers. I quickly recorded the sighting on my apps, eager to keep track of all the birds I would encounter.
White-throated Bee-eaters
As I continued my walk, I spotted a group of White-throated Bee-eaters, their vibrant green and yellow plumage standing out against the foliage. I also saw a Broad-billed Roller, swooping down to catch an insect, and a pair of Black and White Mannikins, hopping around in the bushes. The morning was filled with the sweet sound of birdsongs, and I was thrilled to hear the calls of the Klaas's Cuckoo, Red-Headed Malimbe, Little Greenbul and the Diederik Cuckoo. I even managed to spot a Vieillot's Black Weaver and a Shikra perched high up in the trees.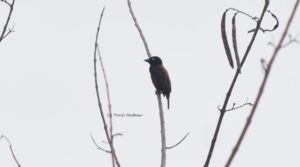 Vieillot's Black Weaver
On my way back home, I encountered other farmers and I engaged them in a conversion on the need to preserve the forest for their benefit as well as the need to harvest trees for the sustainable demarcation of their lands. I couldn't help but feel appreciative for the chance to enjoy the splendour of nature as a bird watcher and an advocate right in my neighbourhood. It was a great morning for solitary bird viewing. Written by Mathew Tunji Edited by Nanchin Kazeh